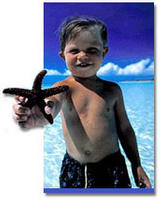 Area Gulf Beaches
Across the bay from Englewood lie eight irresistable sandy beaches extending southward from Manasota Key to Palm Island, on to Don Pedro, and end at the Gasparilla Islands-each with it's own experience.
Manasota Beach
Enjoy a scenic drive to four seaside parks with beaches that stretch 14 miles along Manasota Key. At Manasota Beach on the northern tip of Manasota Key,you'll find changing and restroom facilities with showers. Covered picnic areas with grills may be reserved by call Sarasota County Parks & Recreation. There is also a free public boat launch on the bay side of the park across the street. No parking fee is required, and there is plenty of parking. Great for shelling and sharks teeth collectors. Life guard on duty.
Blind Pass Beach (Middle Beach)
Blind Pass Beach or Middle Beach as the locals call it, is in the middle the Manasota Key. It can be found by traveling south from Manasota Beach or from SR776 take Beach Road to the "T" and turn right, driving a few miles. Full changing and restroom facilities w/showers are available. Plenty of parking with no fees, this beach is in Sarasota County. On the Fourth of July fireworks have been set off here for years with the locals and visitors enjoying food, music, and festivities all day. The beautiful display at night is enjoyed by boaters on the bay side and bumper to bumper people bringing chairs, blankets,and baby cribs too and sit beachside.
Englewood Beach
The most popular of the four beaches along Manasota Key is Englewood Beach. Having had the privilege of participating in our newly renovated park beach design, the beach has parking now for over 300 vehicles. New shelters, paved parking, playground, basketball and volleyball courts,with additional grills and picnic tables added or replaced not to mention the new covered shelters scattered along the boardwalk for sunset viewing. With full bath and changing facilities,reservations for the covered picnic areas may be reserved by calling the Charlotte County Parks and Recreation. The newly modeled area is also handicap accessible in every which way. Parking is charged at 50 cents an hour with automated machines providing change up to 4 p.m. Sunset parking is free and is fully used as area residents and vistors alike gather daily to enjoy one of the most beautiful scenes as the sunsets and fades below the gulf waters. Shops, restaurants, and tourist shops are within walking distance of the beach. The easiest way to get here is by taking SR776 to Beach Rd. At the end of Beach Road, the beach will be directly in front of you. An annual pass can be purchased for Charlotte County beaches for unlimited visits. Click on "Parking Permits" to the left of my homesite for more info.
Stump Pass Beach State Park
At the south end of Manasota Key, this state park is one of the most beautiful beaches in Florida and was named #1 in the state in 2005. Still in it's natural state, visitors to Stump Pass Beach find shelling and fishing along this 2 mile stretch of beach. Since it is state owned, a $2.00 entrance fee is required if you go by car. Restroom and changing facilities area available. Nature trails have been added plus additional picnic tables beyond the entrance. Boaters can be found scattered along the inlet swimming,picnicing, and fishing as well. At the tip of Stump Pass Beach is Stump Pass, the channel for boaters to exit into the gulf waters. Locals tie up on the weekends with boats of all sizes and shapes.The shelling at the tip is fantastic-so is the fishing. The southern tip is easier reached by boat, but the walk is one that you won't forget. Take a baggie with you for your shark's teeth and shell collection.
Don Pedro State Park
Beyond Manasota Key to the south lies what was once a string of isolated mangrove islands-Palm Island, Don Pedro, and Little Gasparilla Island-which now have merged into a single barrier island. In the middle of the chain is Don Pedro State Park. There are no bridges to the island, but the boat docks on the inlet side accessable by the intracoastal waterway make it a favorable retreat and private at best.There is a $2.00 honor charge as it is a state park. Covered picnic shelters including grills overlook the gulfside. Restroom facilities are available with full changing area. Please note as you head south on the intracoastal waterway just past the barge area to Palm Island is a state directional sign on the right that guides boaters to the docks for the park entry.Ferry service was just added in 2006 from the Fishery Docks in Placida. Hersh's water taxi also take you there for a round trip fee.

Gasparilla Island State Park
Five beach accesses ranging from the southern tip of the island to just south of the village of Boca Grande, make up Gasparilla Island State Recreation Area. The Sand Spur Beach access offers the best swimming, while three of the others (Dunes,Seawall, and Sea Grape) boast great shellilng. Stunning views of the sound can be had at Lighthouse Beach Park, the southernmost of the beaches. The swift currents through Boca Grande Pass make this area unsuitable for swimming. The oldest building on the island is the Boca Grande Lighthouse,which is currently a museum. It is open Wed-Sun, 10 to 4,and is well worth viewing. Four miles of white sandy beaches promise you a glimpse of silver tarpon leaping out of the water at the beginning of summer. An iguana possibly can be seen on the roadways as you drive through Boca Grande on the south end. CR775 South, also known as Placida Road takes you to the Boca Grande Causeway, where the toll bridge fee is $6.00 for autos.
Cayo Costa State Park
Look directly south of the Boca Grande Pass, and you will see Cayo Costa State Park. How do you get there, you say? Only by your boat! There are docks on the other side of the islands to tie up, or just park you boat on beach. With nine miles of gulf beach, this barrier island park is a gulf coast paradise. Nature trails provide hiking and off road bicycling. For over nite stays, the park offers primitive cabins and tent camping. For ferry and rental information, call (239) 283-0015. Rangers are stationed daily.